Interviews Radiio and Articles
Washington Post article by Sarah Szczypinski interviewing
Dr Judy Willis
on with neuroscience correlations to parenting extroverted kids Aug 2018.
https://wapo.st/2PmxVBM
Willis, J.A. (2018).
NBC News Education Nation Parent Toolkit
. How To Take Advantage Of The "Back-To-School Brain." August 8, 2018
https://www.parenttoolkit.com/news/how-to-take-advantage-of-the-back-to-school-brain
Interview for
Nevertheless
tech and edtech podcast in England about helping young people who have been through traumatic experiences by interventions to build their resilience. Recorded July 6, 2018.


Quoted expert for
Freeport Journal-Standard News
(Freeport, Illinois)
October 13, 2017. How to keep your child positive about school
by Mike Schiffman, Superintendent, Freeport School District.
http://www.journalstandard.com/opinion/20171013/freeport-superintendents-view-how-to-keep-your-child-positive-about-school
Radio interview
Cape Town, South
Africa
regarding best parenting as part of prime time radio news about the International School Principals conference. Sept 22 2017.
https://omny.fm/shows/the-kieno-kammies-show/international-confederation-of-principals-conferen


Quoted expert
Fatherly.com
: A Disturbing Number of Teachers Don't Understand How Brains Work
https://www.fatherly.com/health-science/teachers-education-neuroscience-brain-science/


Quoted expert
http://cfgctips.childguidance.org/author/177322/judy-willis-m-d-m-ed/
WELL.Family.com
Topic: Helping teens
build positive attitudes toward school and increasing resilience and perseverance.

Quoted expert for
Little Miss Perfect
in
The Telegraph
August 17, 2017
http://www.telegraph.co.uk/women/life/little-miss-perfect-beware-downside-straight-a-student/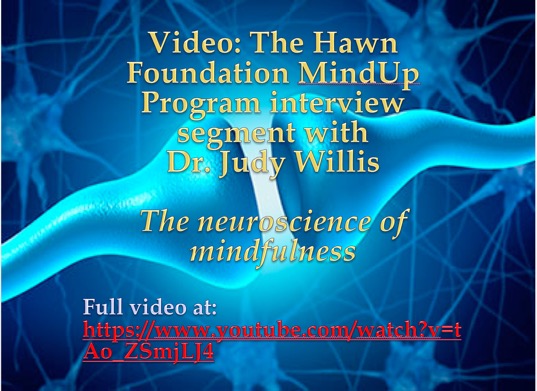 Video:
T
he Hawn Foundation
- The MindUp Program with an early opening quote and later video of neuroscience of mindfulness by Dr. Judy Willis
https://www.youtube.com/watch?v=tAo_ZSmjLJ4
Interview Swedish TV-
show for teachers called "Lärlabbet" (Translated: Teachers Lab) on website
http://urskola.se/Produkter?q=l%C3%A4rlabbet&view=date
under name of the week's April 26, 2017 episode, "Hjärnan och inlärning."